Testimonials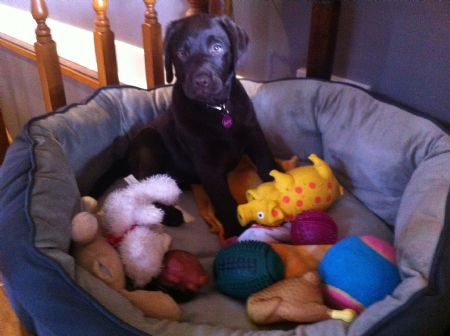 Well I don't know where to start but I must say it is a huge
credit to you with the way that Marnee has been bred and raised. She walks on
her lead, sits. Stays and drops. Most times. She has fitted into our family well and adjusted straight
away. She comes to heal when called and doesn't bother the older dogs. She is an
old soul in a young body.
Nancy is settling in well.

She has such a beautiful nature.

We are very fortunate to have her, thank you.

We absolutely love Sophie she really is an amazing little dog, She has fit in perfectly
even mum who has never had much to do with animals absolutely adores her!
I would recommend your puppies to absolutely anyone


Ruby is going great - we have had our 2nd vaccination and looking forward to
having our 3rd so we can start going to the beach! Ruby loves the water -
typical lab and has settled in really well to our house and routine! We
have started puppy school - and she is by far the most friendly puppy there and
is learning really well - especially now that she knows food is involved!! She
has grown so much - in height and weight! She is an absolute delight to have in our family - so thank you!

Yep we think she is the most gorgeous puppy ever :)
She has already learnt sit, stay, leave it and off. She sits for her dinner like a good girl -
she's so smart! She's is also biting a lot less so our efforts there are working well.
And now that's she's had her vaccinations we're starting to take
her for walks and she is very good, she stays right next to us and is learning
quickly not to go ahead - such a good girl.
Thanks for picking her for
us, we just adore her.
We have also put Meiji into doggy day care on 2 occasions and he had so
much fun, just like being in the dog park and playing all day. Most of the time
though he is happy just hanging out with us and he loves our company. We
couldn't have asked for a better dog and your description of a happy calm
temperament is spot on.
We all love her dearly and feel like she has been with us for ages, all our
neighbours love her too. She has a habit of splashing all the water out of her
water bowl so we bought her a pool to cool off in and make sure she has water
during the day. Our next door neighbour has taken to coming over daily to have
a "swim" with her. She plays with her and makes sure she stays cool. Peppa is
therapeutic for her as she had become quite reclusive and Peppa has brought her
out again. don't know where the gentle puppy you gave us went, Peppa is a crazy, lively
little creature who has personality in by the bucket loads. She is always up to
something, usually mischievous but never too bad. She constantly keeps us
amused. Thank you for such a delightful little dog, who has brought
much joy to our family and friends.
Lenny has settled in so well we have had no problems except the neighbour also got a new pup
and the two of them are determine to meet through a tunnel they have dug under the fence!
Ha! Cheeky! He is sitting on command and going to the toilet in the right spot
he also comes to his name and is very good with our two year old!
All in all a perfect fit!
Manny is fantastic. He is full of beans and has a rather funny cheeky streak.
He is already sitting, dropping and rolling on command (one smart
puppy), although he is struggling a little with toilet training. He goes outside
on the grass then decides to do another inside the house within five minutes. He
has started biting too so I keep replacing my hand with a toy and he seems okay
with this.
We are very happy with him and can't thank you enough.
She's such a smart girl everything I'm teaching her she picks up very fast
and when we take her for walks we get stopped almost every time from people
admiring how beautiful she is which is very true :) She is such a happy dog
her tail never stops wagging and she loves attention and also very cheeky we love her to bits.

Contact Details
Richard
Mid North Coast, Taree, NSW, Australia
Phone : Member Number 2100065591
Email :
[email protected]